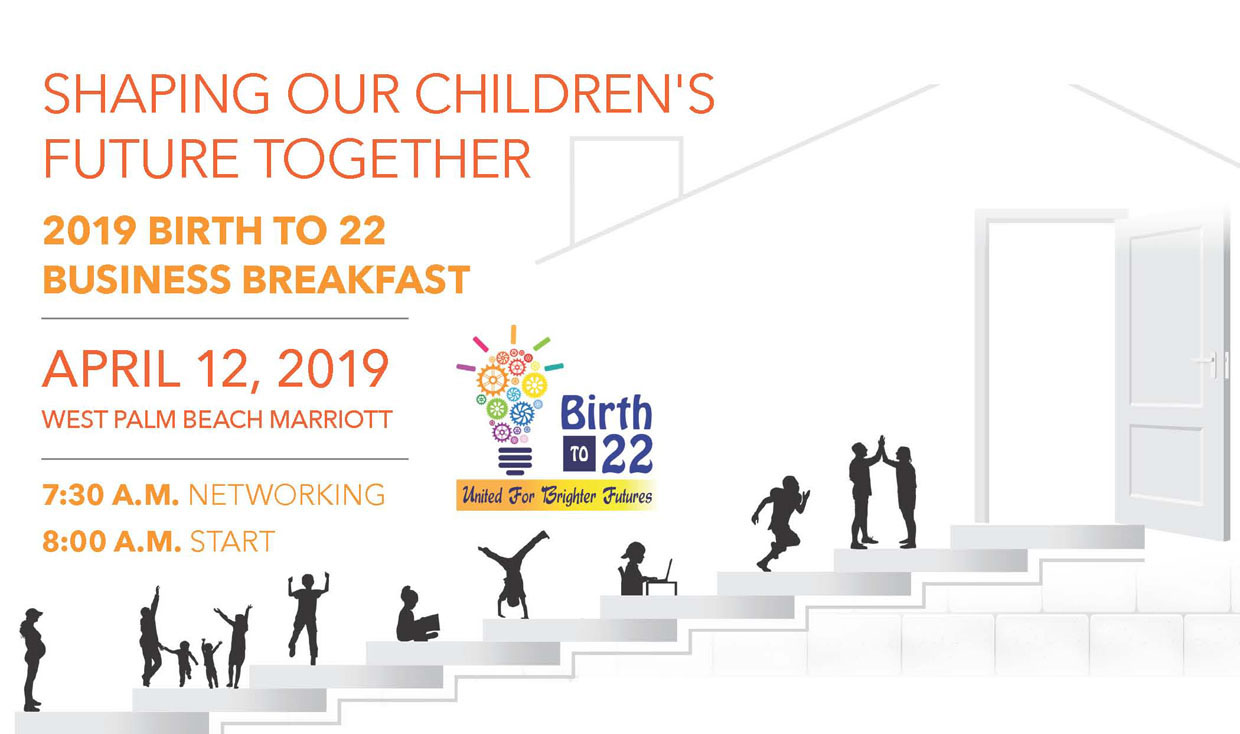 Birth to 22 Business Breakfast Sponsoship Opportunities Available - click here to learn more.
Register Now for the Birth To 22 Business Breakfast
Business Champion Award
DEADLINE FOR NOMINATIONS IS 5:00PM ON MARCH 8, 2019
The Birth to 22: United for Brighter Futures is excited to announce our inaugural Business Champion Awards which will be presented at the 2nd Annual Birth to 22 Business Breakfast: Shaping our children's future together, which will be held on April 12, 2019 at the West Palm Beach Marriott. We Invite members of the community to nominate for -profit businesses whose support has helped to improve child and youth outcomes, in the following categories:
Small Business Champion of the Year (less than 100 employees)
Mid-Sized Business Champion of the Year (100-999 employees)
Corporate Business champion of the year (more than 1,000 employees)
Click
here
for addtional information and to view or print the
Nomination Form
. Nominations must be recieved by 5:00pm on March 8, 2019. Please send completed nomination form to:
pbc-birthto22@pbcgov.org
In 2013, the Board of County Commissioners and a group of community organizations and leaders convened the Infant, Child, Youth and Young Adult Symposium (Youth Symposium) to share information and identify actions and programs to support the healthy growth, development and education of children and youth from prenatal to young adulthood.
Birth to 22: United for Brighter Futures
(Birth to 22) is the alliance of community partners that emerged from the Youth Symposium. For the past four years, this alliance has engaged other existing coalitions, networks and youth serving organizations, as well as connecting with families, community members, and, most importantly, with local youth directly. The result of this massive engagement effort will be a well-vetted set of priorities for young people that will include concrete recommendations for collective action and measurable targets to be published in the Fall of 2016: The Palm Beach County Youth Master Plan.
Birth to 22 affirms a whole child approach to this collaborative work, focusing on six domains of child and youth development: physical health, behavioral health, academic readiness, social/emotional well-being, career readiness, and connection and contribution to community and society.
Our Mission
To support the healthy growth, development and education of our children and youth prenatal through young adulthood, so that they can graduate from high school and succeed in life.
Our Approach: Collective Impact
Collective impact is a framework to achieve social change through strategic collaboration. Through a common agenda, emphasis on equity, openness, and respect, we aim to foster ongoing collaboration and community engagement towards unprecedented positive outcomes in the lives of Palm Beach County youth.
Click to view
Strengthening the Steps to Success

The leadership of Birth to 22 has created a strong coalition that leverages the existing resources and initiatives to engage the county's diverse communities.  We are committed to engage in proactive communication and in continuous evaluation to improve our systems and advance our mission. 
This Website:
This website fulfills our goals for transparency and ongoing community outreach. It aims to serve as a central depository of all Birth to 22 initiatives, activities, updates and measurements. In addition to a calendar of events and a services database for professionals in the field, this site will also include the final Youth Master Plan report, resources for program evaluation, and data dashboards. In order to meet our community's needs, the content of this website will continuously evolve as new information becomes available.